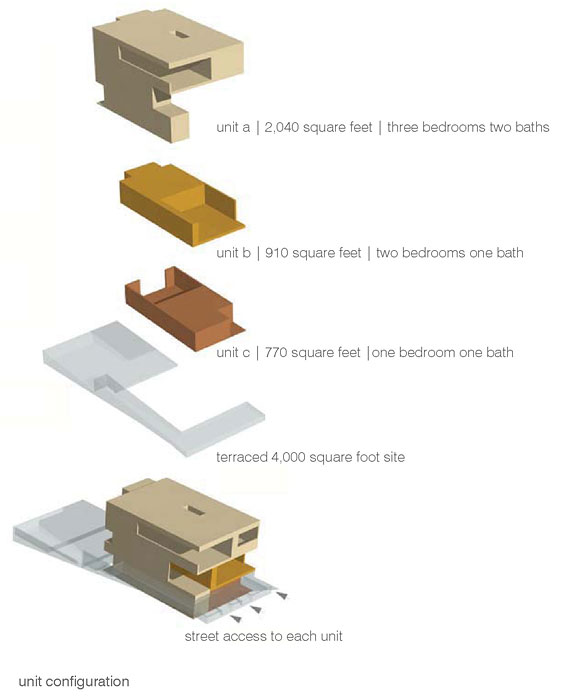 Colman Triplex
Seattle, WA
2011 Merit Award, PNW AIA
2010 Honor Award for Washington Architecture, AIA Seattle
2009 Future Shack Award, AIA Seattle
2009 Sunset Magazine-AIA Western Home Awards, Urban Living category winner
The design of this 3,800 square foot triplex was informed by four primary considerations: economy of space, variations in dwelling program and configuration, direct access to landscape and exterior space, and an exploration of the exterior cladding screen.
The site is a forty by one-hundred foot lot that slopes eight feet from west to east with views of downtown Seattle.
Instead of constructing apartment flats based on a similar organizational typology that relies on a series of stacked bearing walls, a structural steel frame is used to provide interior bearing. Because of this, the fundamental organization of the dwelling is free to rotate or flip as each flat responds directly to varying program requirements and visual and physical landscape connections that are available at each level of the structure.
A horizontal 1x4 exterior cladding screen wraps the projects. Manipulation of this wood screen is used to preserve the initial figure and simplicity of the rectangular box. Finished in a white solid body stain, it is both abstract and materially expressive.
STATUS
Completed 2009
SIZE
3,800 sf
PUBLICATIONS
Sunset Magazine
RECOGNITION
2011 Merit Award, PNW AIA
2010 Honor Award for Washington Architecture, AIA Seattle
2009 Future Shack Award, AIA Seattle
2009 Sunset Magazine-AIA Western Home Awards, Urban Living category winner
Interior Design
Lair Design
Landscape
Alchemie
Structural
Harriott Smith Valentine
Contractor
Lair LLC